"CREATIVITY - THE MORE YOU USE, THE MORE YOU HAVE"
---
Butterworth Interiors specialise in bringing your child's imagination to life by creating individually personalised spaces. We design each space utilising elements such as the room size, chosen style/theme and furniture layout to create the perfect dream. We can provide a completely new design incorporating wall murals, canvasses, furniture and soft furnishings or enhance your current theme.
Every child's imagination is unique, they all have ideas and visions of what they want to be, who they love and who their heroes are. No matter their age, they all hold these special bonds to the characters and themes that surround them. Bring their imagination to life with a special gift of transforming their personal space into their dreams.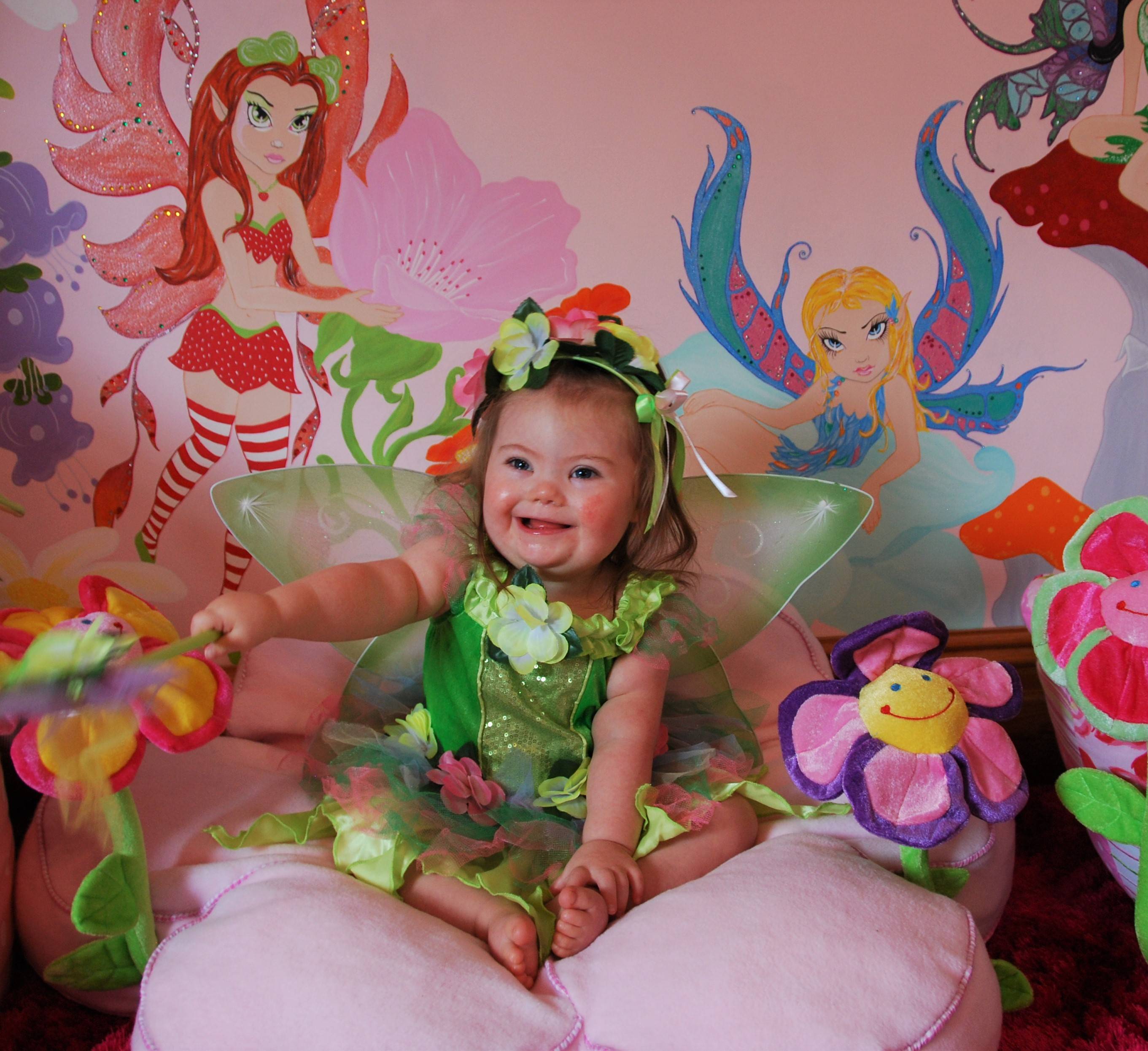 To complete each child's dream, we can create:

Wall and ceiling murals – from a single image to full room murals.
Canvasses – our unique canvas service offers an endless choice of personalised styles, designs and finishes to complement each design. Also, a perfect personalised gift for someone special.
Headboards – our unique bespoke designs are fun and individually designed to fit the theme.
Window dressings – there's more than one way to dress a window. Jazz up pelmets with themed styles from circus tents to musical notes or by using funky fabrics on more traditional designs. Our creations are limitless and unique.
Cushions – bed, sofa and floor cushions for chilling out and playing. Sensory styles or just for fun. We can make any size, shape texture from any fabric just for you.
Furniture – we can provide a range of new furniture and styles from funky seating to standard ranges. Alternatively choose to revamp existing furniture with your child's name, favourite character, theme or colour for a personalised touch.
---
Examples of Our Commissions

Hot Wheels Themed Bedroom
Featuring an alloy style wheel headboard with Hot Wheel inspired curtains and pelmet. Three bespoke hand painted sports car canvasses - Lamborghini, Ferrari and Audi.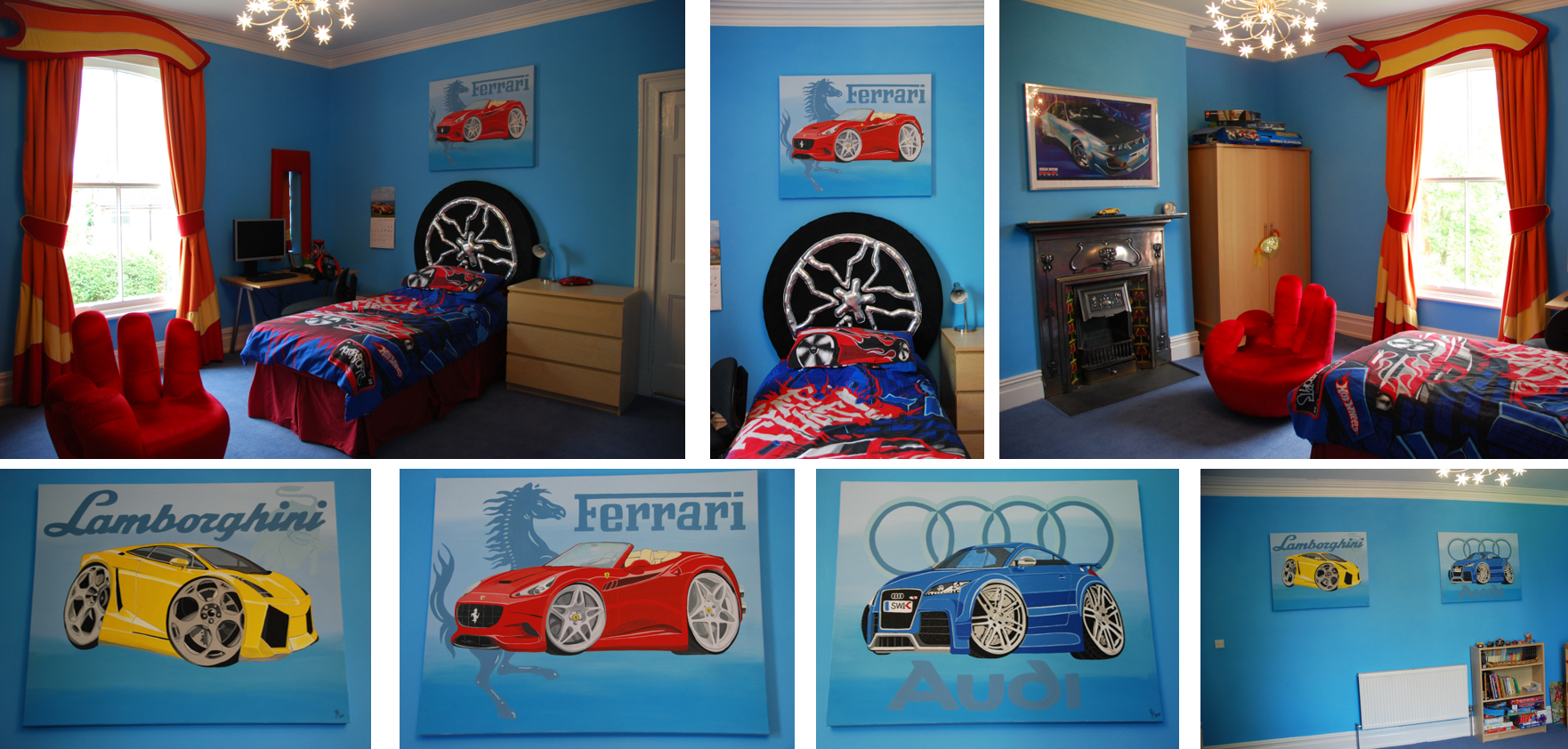 ---
Fairy Tale Princess Castle Bed
Our clients brief was to incorporate a double bed, storage, dressing table and play deck. We designed every aspect to fit perfectly into the room. We added a walk in dressing up wardrobe, turret storage, hidden stair storage and a dressing table. The bed canopy has a star light ceiling and each of the turrets has up lights. The construction was manufactured to our design in pre primed MDF. We hand painted using a variety of faux techniques from stone block work to wooden panelled doors where a climbing roses frames the archway with diamante details. Finished with an initial crest and a thrown chair worthy of a princess.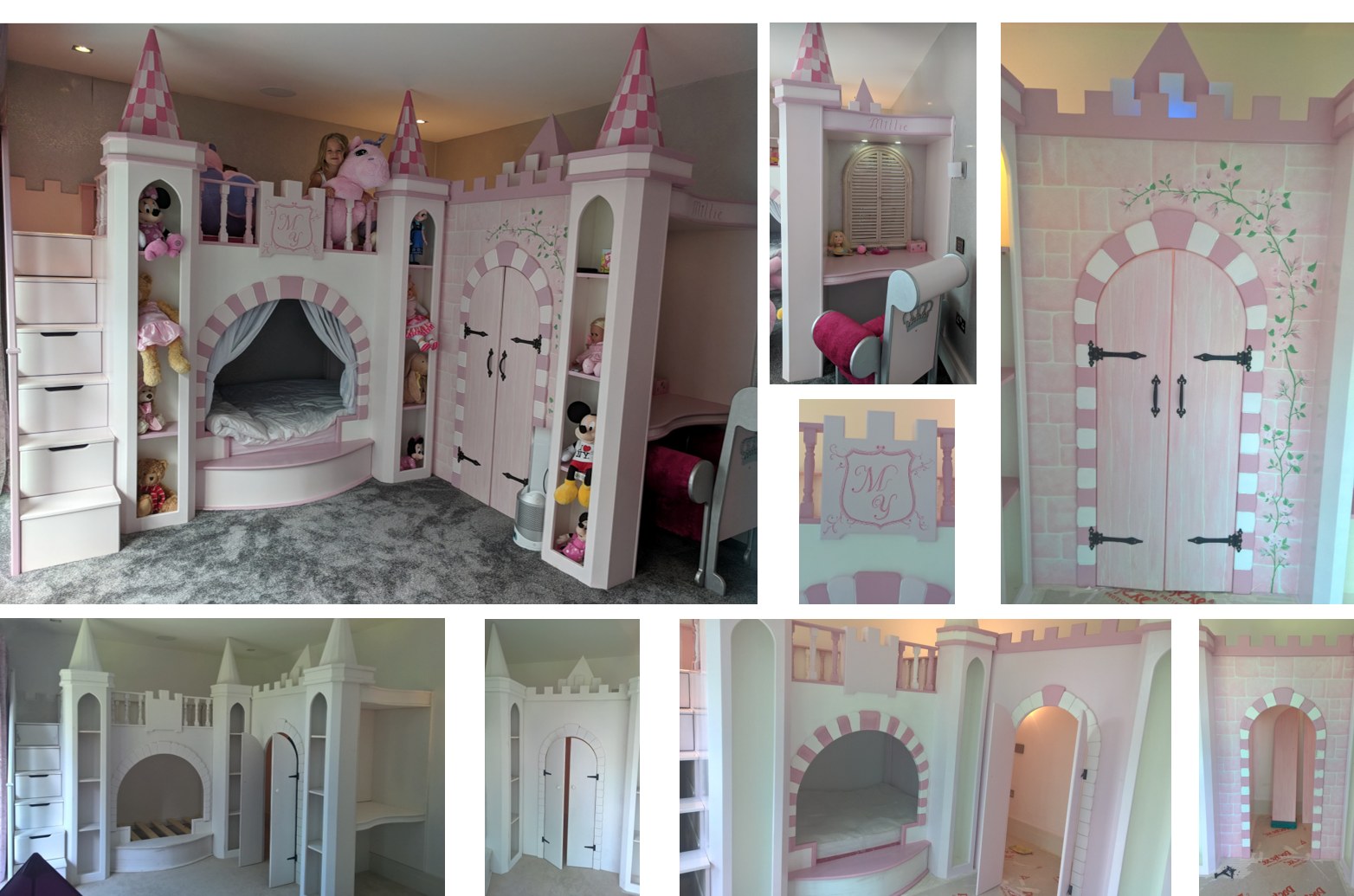 ---
It's a Jungle Out There
Every elevation of this room was hand painted in a jungle theme. Incorporating a giraffe looking through faux shutters on a wood and bamboo frame, tropical plants, a zebra, cheetah, snake and baby tiger club. The cabin bed was given a treehouse style roof with foliage, parrots and monkeys. A mixture of soft furnishings in animal prints were used for the roman blinds, window seat, cushions, bed throw, bean bags and chair.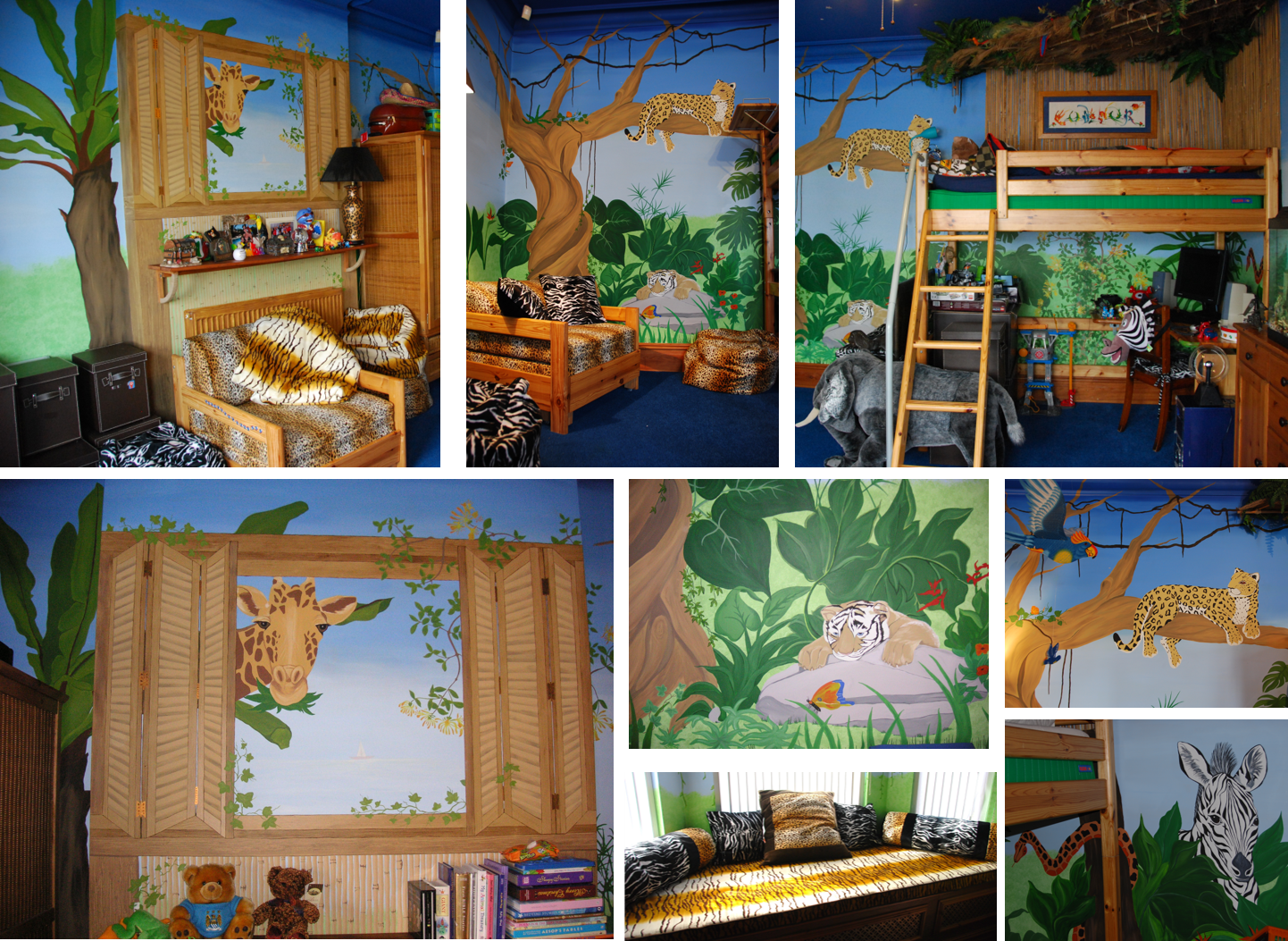 ---
Fairy Tale Princess
This fairy tale princess bedroom features hand painted murals of fairies on toadstools. The floating castle incorporated the special little girls initials, date and time of birth. A hand painted personalised name canvas with glitter accents and 3d flowers. A clouded ceiling with butterflies. The soft furnishings includes castle style pelmets, floor cushions in three designs, a flower, cupcake and strawberry all fit for a princess.
---
Marvels Superheroes
This apex shaped loft bedroom with built in wardrobe doors shows no matter how awkward a space we can create a design to inspire any imagination. Spiderman and Wolverine in action stances behind the main wardrobe doors. The small cupboard door we created a faux brick effect wall with the Hulk breaking through.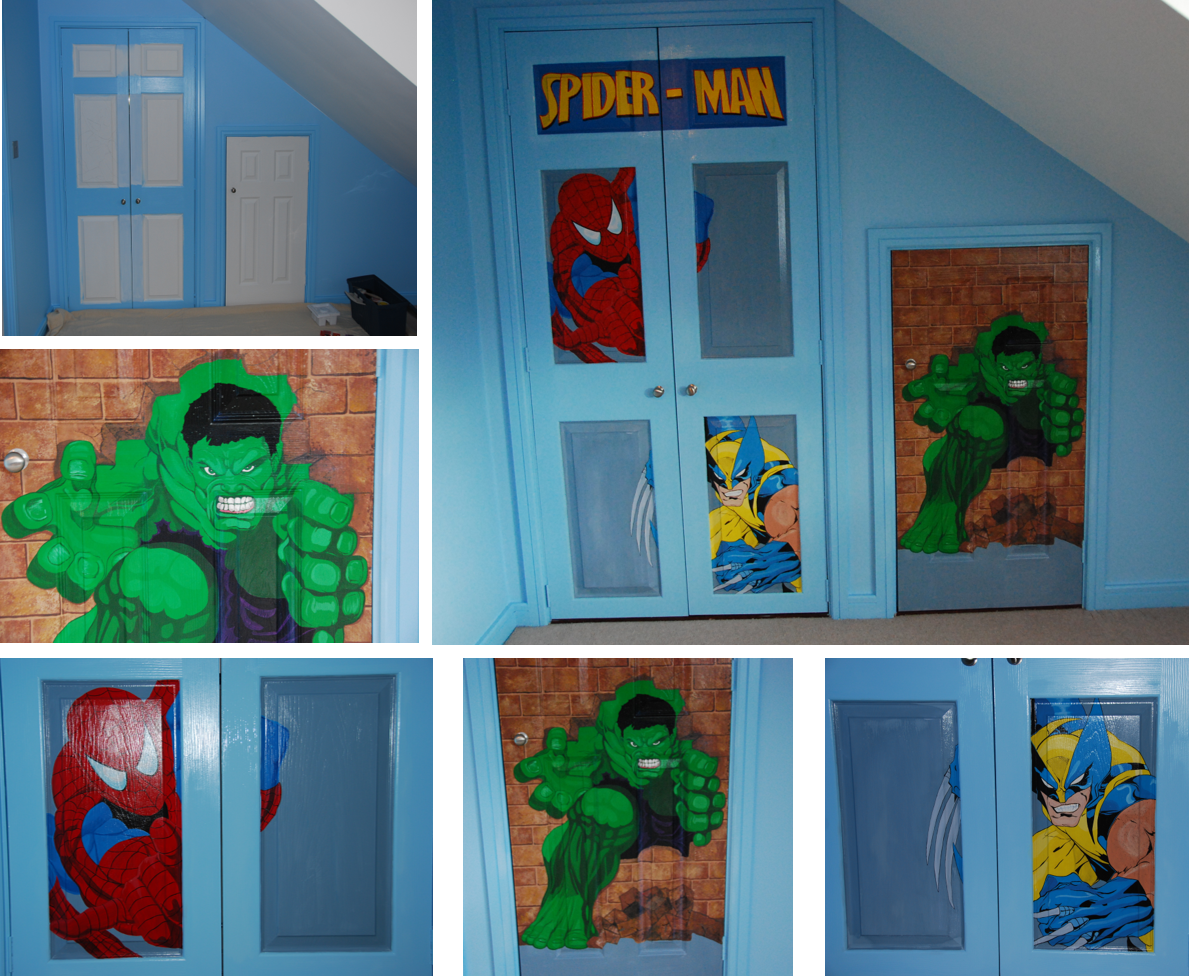 ---
Teddy Bears Picnic
Teddy bears picnic nursery, our client's brief was a mural to incorporate their family, mum dad and 5 children all represented by each of the bears.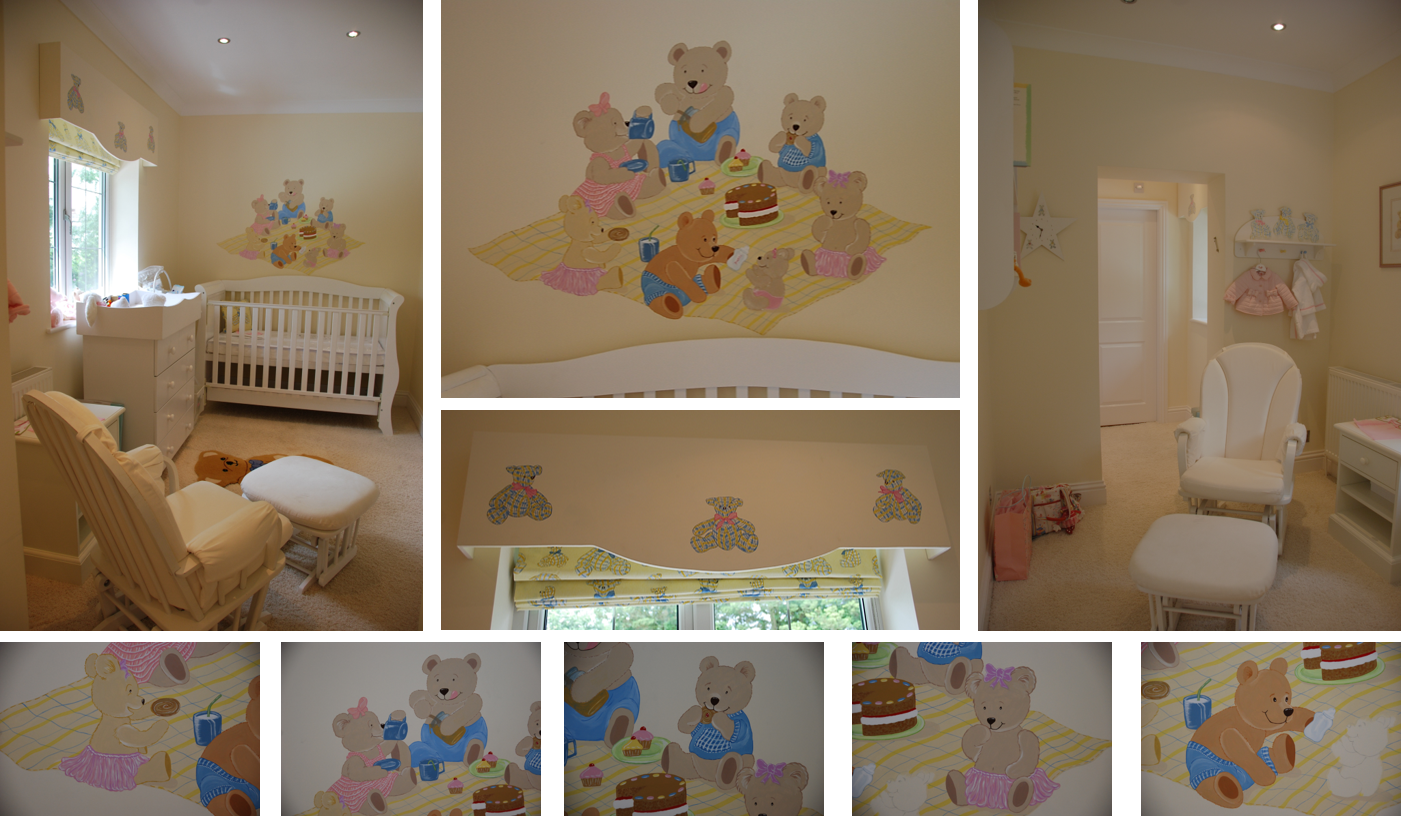 ---
Disney Princess
This Disney inspired girl's bedroom included a full decoration with a soft clouded sky ceiling. The existing pine furniture was hand painted in a block cream then an aging and distressing technique was applied. To complete the room a hand painted full wall mural of a castle based on the magic kingdom with Tinkerbell. Using different textures of paint including pearlescent and glitter to give a magical sparkle.

---
Solar System Sensory Bedroom
Our client's teenage son has complex special needs. He has a keen interest in the solar system. We create tactile wall murals of the solar system around the walls giving each planet a sensory feel by using different art mediums and techniques. To complete the room, we added a galaxy ceiling with UV paint for the constellations and a black hole to light up at night.
---
Victorian Toy Shop Nursery
The design incorporated colour washed faux effect walls with a Celtic stencil design around the window pelmets. Trompe l'oeil style hand painted murals of a Victorian toy shop window, faux glass panels, sign and bell on the shop door. Wall shelves with books and a poem written by the father for his new baby. The candle smoke transforming into a lullaby also written by the father. The fire panel was painted imitating a roaring coal fire with grate. To complete the design, we hand painted the family crest on an MDF panel and overlaid a faux aging technique.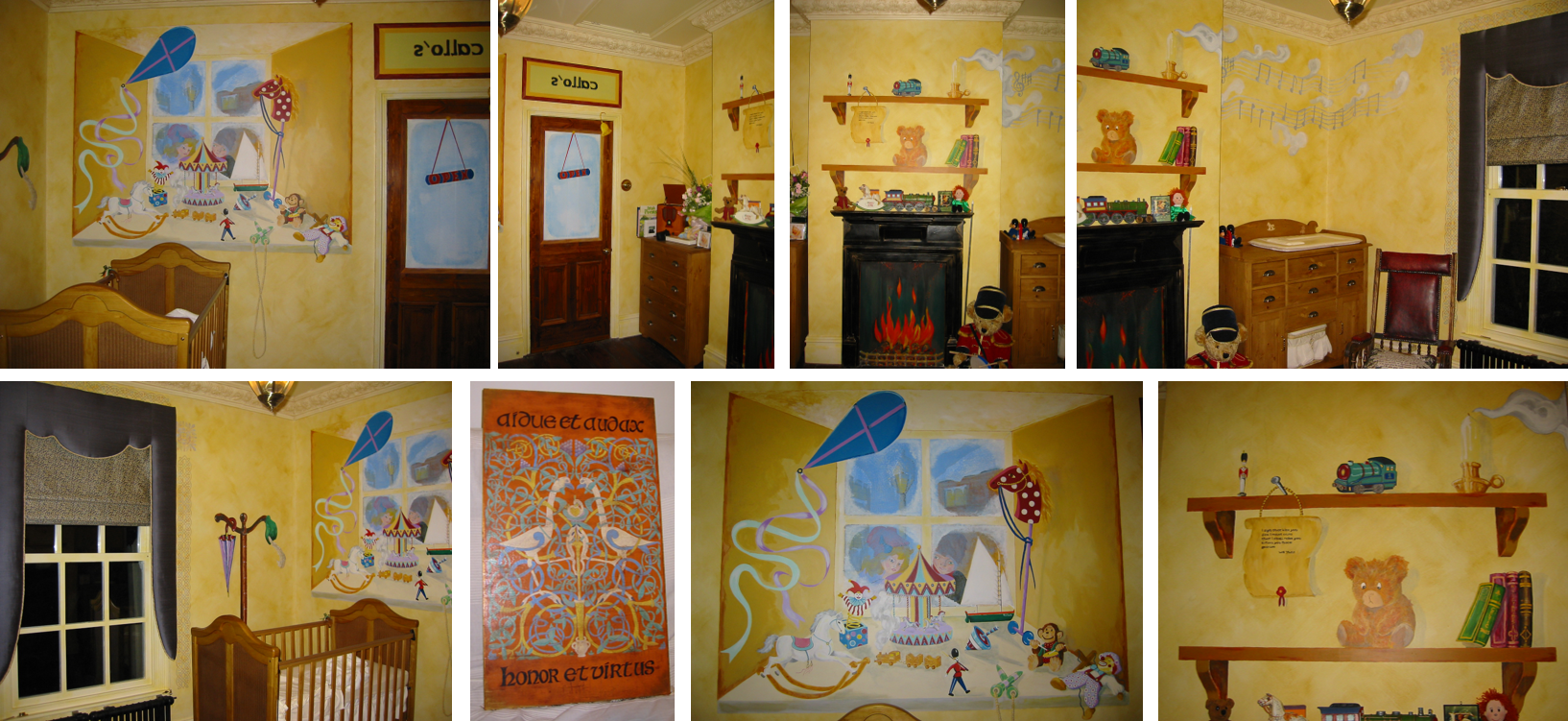 ---
Cars Themed Boys Bedroom
Two large wall murals of the Disney cars were hand painted. We positioned Luigi and Guido to site on the bedside units with Mack as the headboard.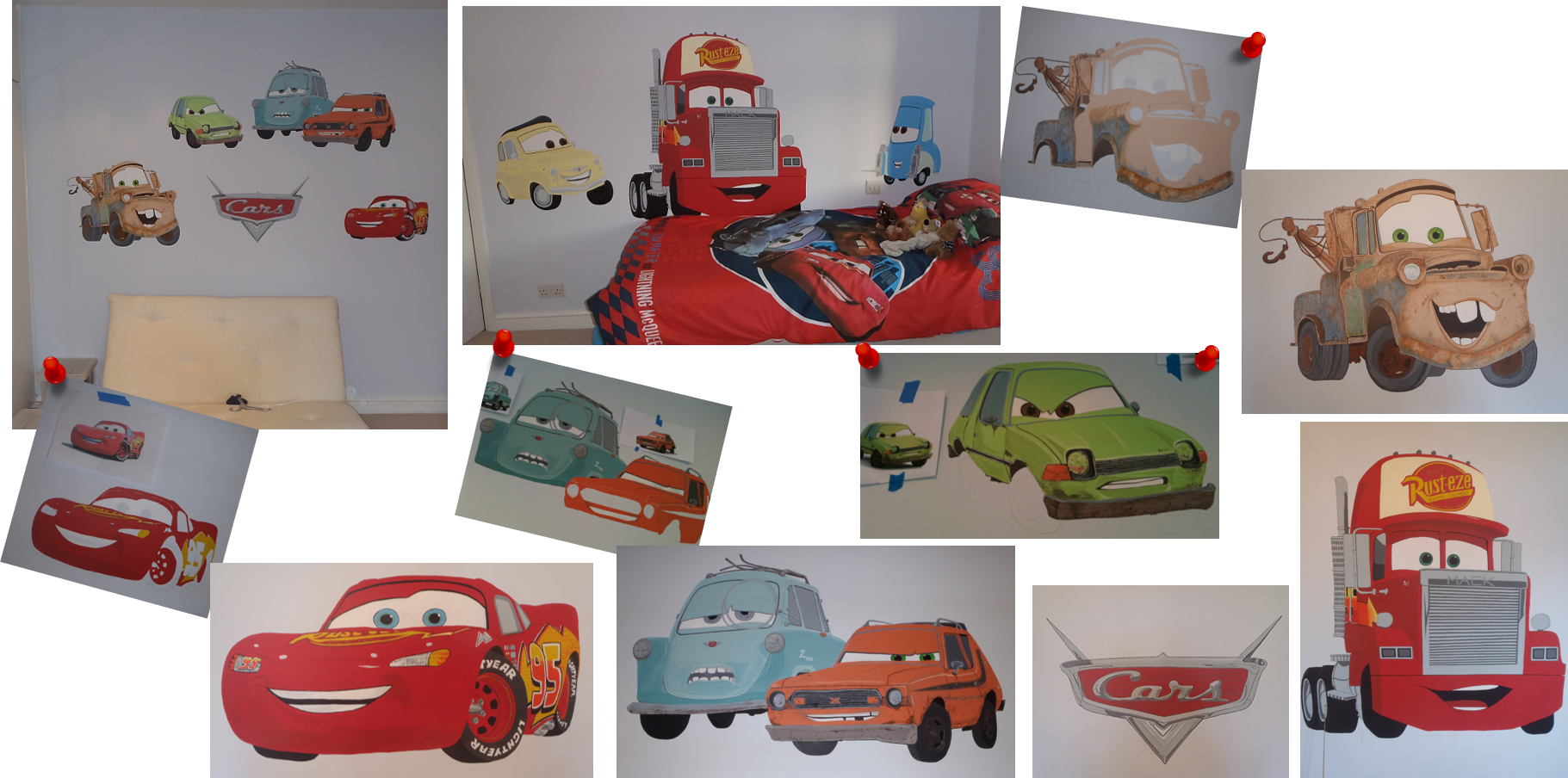 ---
Playful Nursery
A full wall mural of a castle on a hill with a clouded sky cascading across the ceiling. Favourite Disney character's including the Cheshire cat sitting on the pelmet, Baloo having a scratch on a tree which included a height chart. Tiger bouncing for joy, Winnie the Pooh and Eeyore having fun on the bookcase.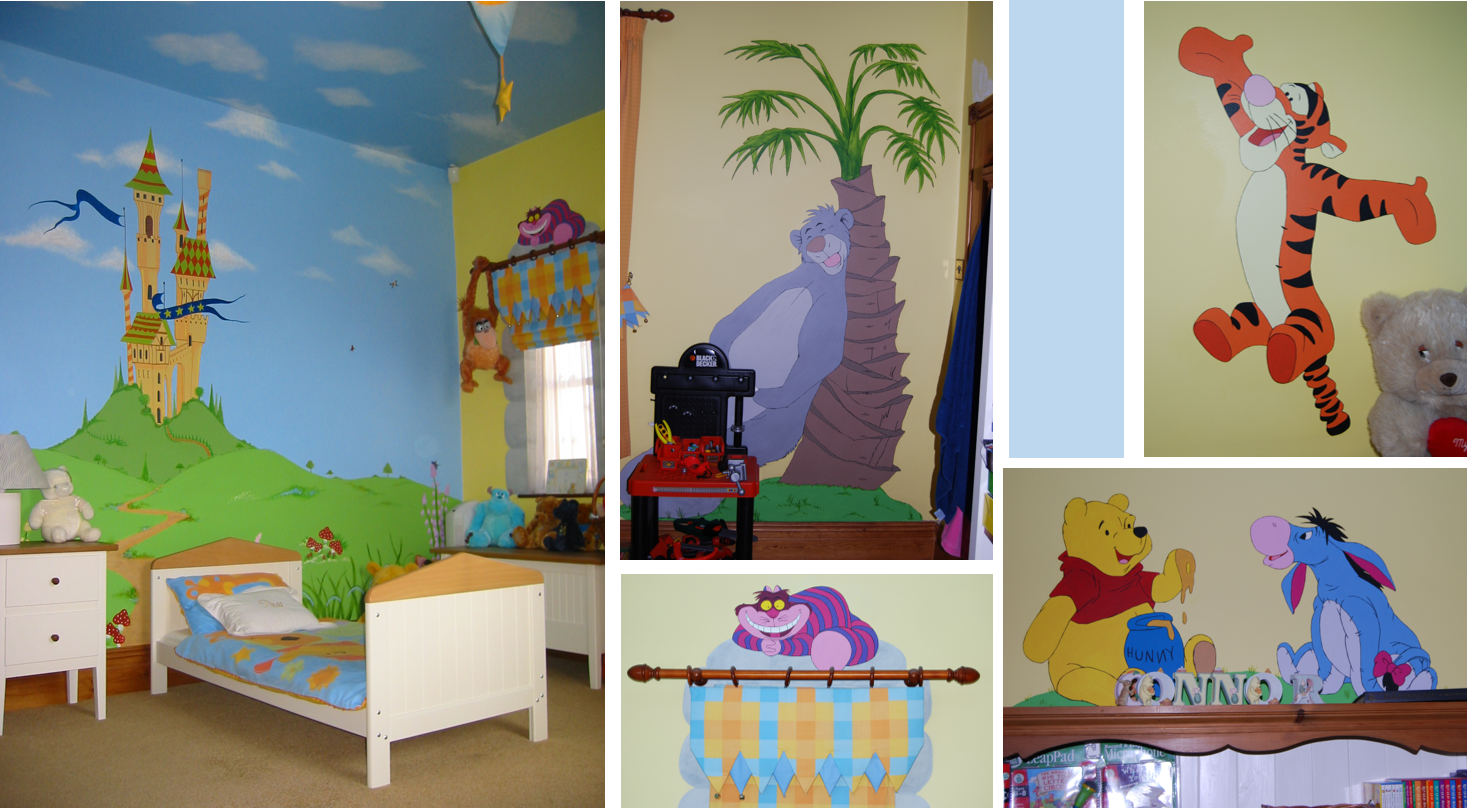 ---
Musical Boys Bedroom
This teenagers bedroom was designed with his passion of music in mind. From the oversized musical note pelmet to the headboard shaped in a guitar an made from vintage jeans to the clef musical note chair. A song of his choice was hand painted around the room with a feature fireplace wall mural of a Gibson guitar.

---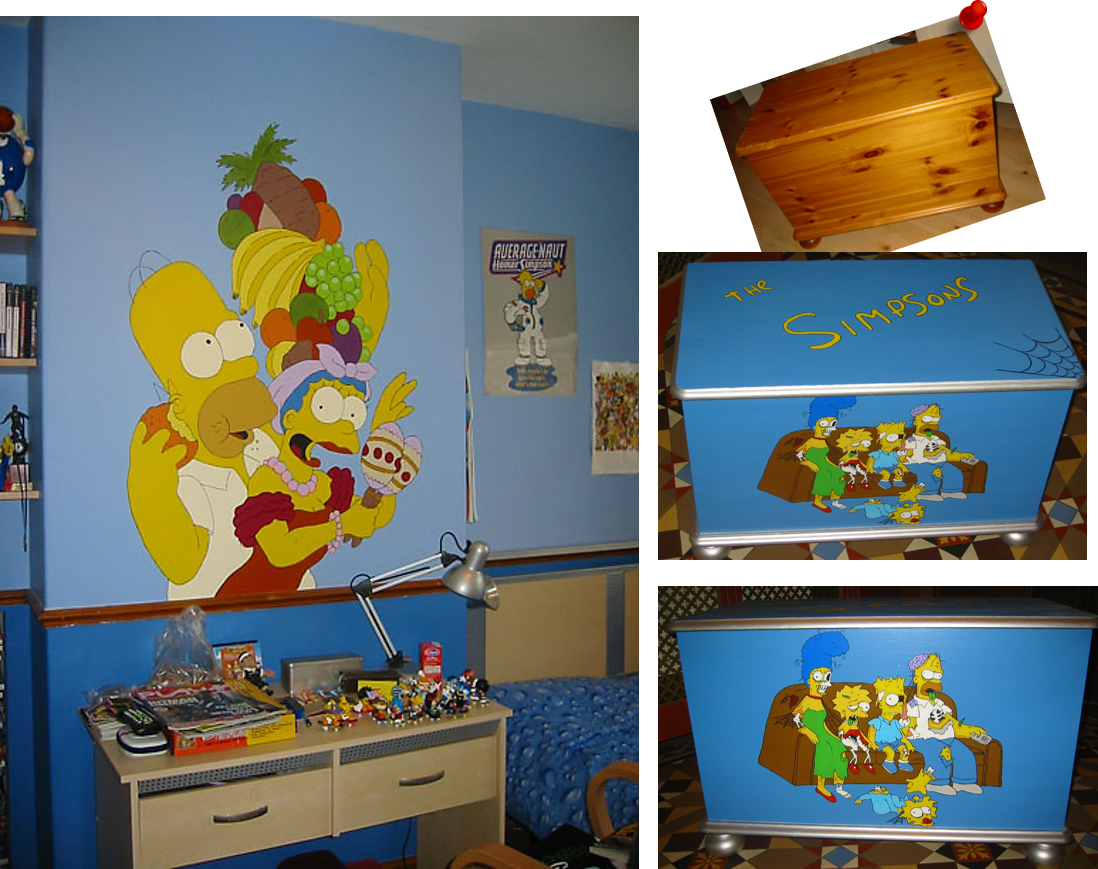 The Simpsons
Teenagers bedroom featuring a wall mural of Homer and Marge Simpson. The old pine blanket box was transformed with hand painted murals of The Simpsons to house his memorabilia.
---
Personalised Name Canvas
A perfect personalised gift for someone special. We can create any size, style and design just for you. From the perfect new-born baby gift to individual letter canvases.
---
Character Canvasses
From their favourite characters to fun themes.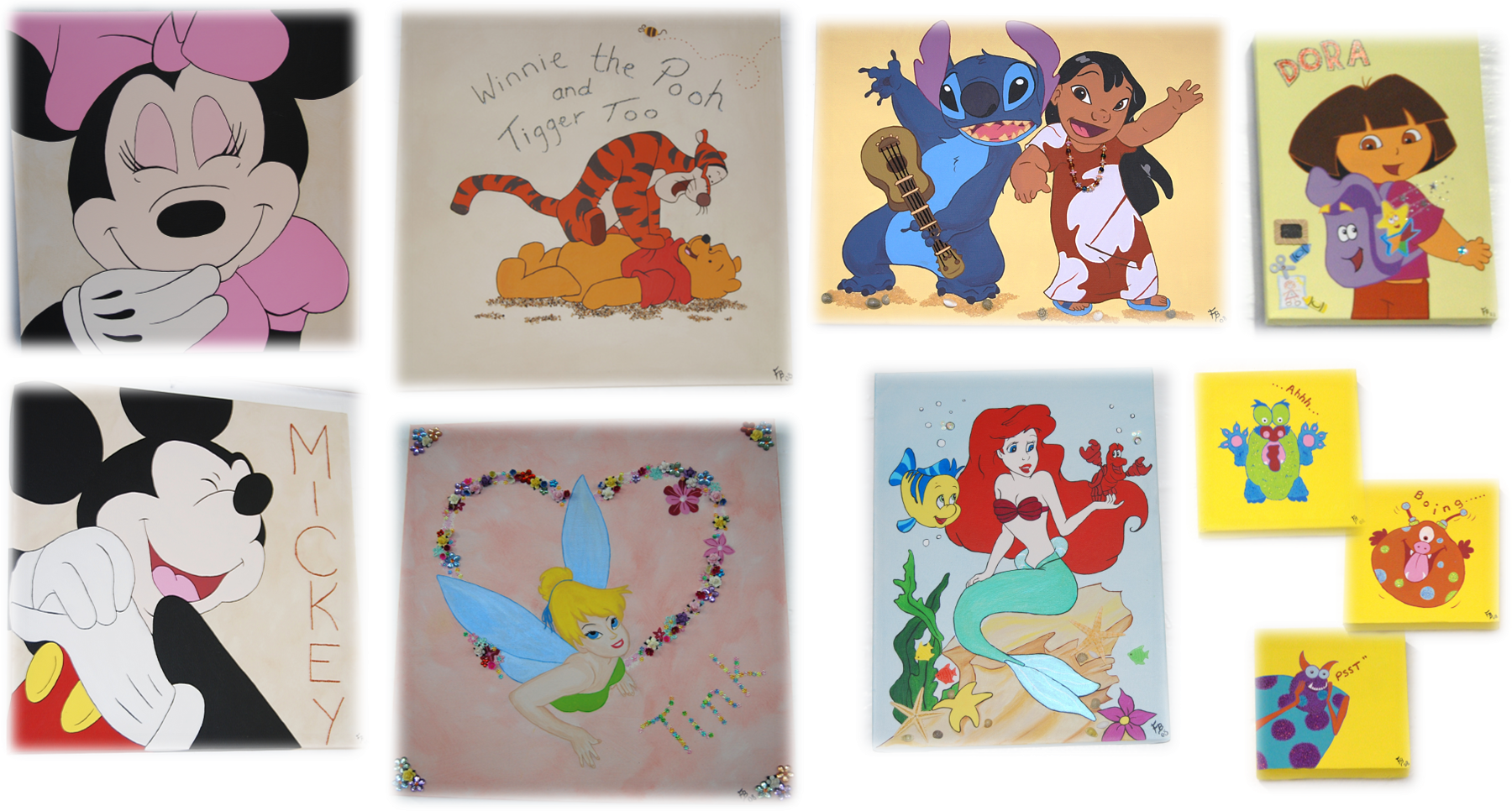 ---
Unique Bespoke Designs
For a truly unique piece we can create any theme from underwater scenes to layered textured canvasses.